Starting a website, building traffic, writing articles; in summary, managing a website is a lot of work, at least if you want Google, Bing, and/or Yahoo to notice you. Writing blogs and hitting the publish button isn't enough for readers to find you. You have to work to become visible. It often keeps me busy several hours per day, which is why an automated workflow plugin could be a great complement and take a lot of work of your hands.
The Thrive Automator was released in August 2021, and it can set up a workflow in less than a minute. It's very easy to do. I was surprised at the simplicity of it.
If you've ever set up an email sequence for email marketing, you'll know what I'm talking about. It isn't that hard, but when you do it for the first time, it takes some time to learn everything, get used to the template set up and the editing buttons – it isn't always as obvious as it would seem, especially if after a few attempts you're getting stressed out. After several tryouts, the one I found the most user friendly was GetResponse.
Now, back to Thrive Themes. You've probably heard of them. They offer high quality products that deliver excellent results and at affordable prices. What I like about Thrive Themes is that they seem to be constantly innovating themselves.
What is the Thrive Automator?
It's an intuitive automation plugin that lets you build workflows that pass data between your apps, services, email marketing provider, and plugins. Getting all your different apps and services to work seamlessly together and create campaigns or workflows with them can often be a time-consuming task.
The Thrive Automator saves time and turns the whole process into a simple click-through on your WordPress dashboard. You don't need to have any advanced technical knowledge. Beginners and pros will find this tool useful.
How can you use the Thrive Automator?
The Thrive Automator basically triggers an action based on your audience's behavior.
For example, if a website visitor leaves a comment you could trigger a response email. Or if someone finishes a course, you could set up an evergreen countdown campaign to offer the rest of the course at a discounted price. If a customer buys a product through WooCommerce you could also add him/her to your email list, and there are more options.
Getting all your website apps, tools, plugins, and services to work together smoothly often requires a third-party provider that could get quite expensive.
The Thrive Automator saves you money, time, and effort.

Setting up an Automated Workflow
It's simple.
You can access it through your WordPress dashboard. Then you click on Thrive Dashboard which will display your Thrive Automator. Click on the Automator. After that you'll be taken to the Automator dashboard and see your existing campaigns.
To create a new one, click on "Add new" in the top right corner of your screen.
The first thing you'll see is the trigger – "when this happens". Select a trigger as is shown in the screenshot below.
Click on "Done"
The next step is: "add another action button", and as you can see in the screenshot we're adding an action button based on the trigger that was selected. In this case, it's a premium course.
Click on "Filters"
After you've added a filter, then under "select field, you'll go to "Course Title"
Select the name of the course
Click on "Done"
Additionally, if you want a time delay, then click on "add another action"
In the displayed menu, choose "time delay"
In the scrolldown menu you can choose a delay of 1 day, 2,3, up until a week, or several weeks, whatever suits your campaign.
Click on "Done"
Finally you have to select what happens with this automation.
So, one more time, click on "add another action"
In the "next steps" pick any of the options that you want to use. In the example we picked the autoresponder.
Then you choose your email service, AWeber, GetResponse, Facebook, ActiveCampaign, ConvertKit, etc.
Click on "Done"
After that you will be prompted to choose the mailing list you'd like to add the user to
You could also add a tag
Once more, click on "Done"
Then, click on "Save and Finish"
The final step: you have to publish your new automation. It won't run if you don't publish it. So, just toggle the publish button to the right as is shown in the screenshot.
After this last step, your automated workflow is live.
Now that you have created your workflow, you don't have to worry about it again. Since it's automated, it will perform the tasks it's set up to do for you.
You can also watch the video below for full instructions.
Thrive Themes Package
At only $19US dollar per month, you can get the complete Thrive Themes Package.
The price of $19 per month is for the yearly package. The quarterly package comes down to $30US per month.
So, in conclusion, if you pay for the full year in advance, you'll get it at a price of $19 per month which is $228 per year.
If you'd like to try it out first, you can pay in advance for a quarterly package which is $90 dollars, and that makes it $30 per month.
Considering that not only are you getting the Thrive Automator, but also the Thrive Architect, Thrive Quiz Builder, Thrive Theme Builder, Thrive Leads, Thrive Optimize, Thrive Comments, Thrive Apprentice, Thrive Ultimatum, and Thrive Ovation, I would say that this is an amazing deal for a quality product.
Thrive Themes also offer a 30-day money back guarantee, unlimited support and unlimited updates. You also have the possibility to install up to 25 websites.
Reviews
Customer reviews are excellent, everyone seems happy with the product. The negative reviews were as "low" as 4.8 stars, so that's not bad at all, is it? I couldn't find anything lower than that.
One reviewer complained that with the quiz builder you were only given three types of questions that you could add to your quiz.
One other negative is that you have to pay the yearly or quarterly package in advance. You can't pay each month. For some that may be a hefty investment, but on the other hand, $228 isn't that much. There are other companies that charge a lot more per year.
Who is Thrive Themes for?
If you're just starting a blog then you don't need Thrive Themes. You can work on SEO and build organic traffic with your WordPress site, making sure you have a secure website host.
Thrive Themes is ideal for marketers. It's great for conversion rate optimization.
Marketing agencies and website development agencies can also greatly benefit from Thrive Themes. With so many tools available you can build beautiful websites, and with everything that Thrive Themes offers you can easily adapt to customers' demands and needs.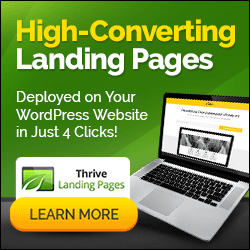 Final Thoughts
In closing, Thrive Themes is highly recommended, but if it is for you depends on what your goals are with your online business. Thrive Automator is exclusively part of Thrive Themes. I think that it's a good tool to have and what I especially like about Thrive Themes is that they never seem to stop developing better tools and plugins.
I recommend that you try it, and perhaps leave your feedback.
Would the Thrive Automator be something you could use for your website? What other integrations do you think should be added?